EM-GJ3 Digital Soft Starter
KEWO EM-GJ motor soft starter is a new type motor starting and protection device that is integrated with power electronic technology, microprocessor and automatic control. This soft starter is able to steadily start and stop motor without step change so as to avoid mechanical or electric impact resulted from using conventional starting modes such as direct starting, star-delta starting and auto voltage reducing starting, and effectively reduce starting current and distribution capacity for fear of more investment on capacity expansion.
Specification:
Control power: AC110V--220V+15%
Three-phase power supply: AC380V, 660V, 1140V±30%
Nominal current: 15A-----1000A, totally 22 kinds of rated values.
Applicable motor : General squirrel cage asynchronous motor .
Soft starter Features:
Multiple starting modes
Current-limiting start, ramp current-limiting start and voltage ramp start can meet the site requirements to the maximum extent and realize the best starting effect.
High reliability
High performance microprocessor conducts digital processing for signals in control system, avoiding the excessive adjustment to analog line so as to obtain the best precision and execution speed.
Powerful anti-interference performance
All external control signals adopt optoelectronic isolation and are set with different anti-noise levels. The device is applicable for use in special industrial environment.
Optimized structure
The unique compact structure is designed to be easily integrated into user's existing system, saving expenses for restructuring of system.
Motor protection
Multiple motor protection functions such as over-current, input/output phase-failure, short circuit of thyristor and overheat protection can guarantee motor soft starter not to be damaged in case of fault or incorrect operation.
Easy maintenance
Pilot signal coding system composed of 4-digit number display monitors working condition
Typical Applications
• Bow Thruster, • Compressor, • Elevator, • Centrifugal pump
• Conveyor belt • Mixer, Centrifugal fan, • Crusher • Mill
• Conveyor belt (long) • Stirrer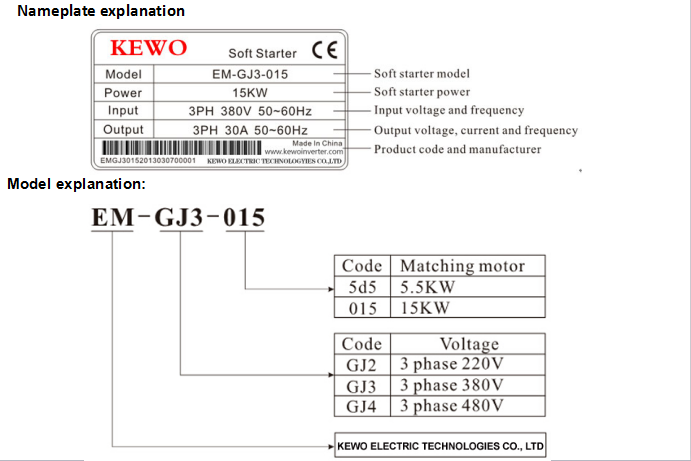 Item

Description

Input Power Supply

Input Voltage

Three-phase 220V/380V/480V/660 AC

Frequency

50/60Hz

Adaptive Motor

Squirrel-cage three-phase asynchronous motor

Starting Times

It is recommended not to exceed 20 times per hour.

Control Mode

Operation panel control.(2) Operation panel + external control.

3) External control.(4) External control + COM control.

(5) Operation panel + external + COM control.(6) Operation panel + COM control. (7) COM control. (8) No start or stop operation.

Start Mode

(1) Current-limiting to start. (2) Voltage ramp to start. (3) Torque control + current-limiting to start. (4) Torque control + voltage ramp to start.

(5) Current ramp to start. (6) Voltage current-limiting double closed-loop start.

Stop Mode

(1) Soft stop. (2) Free stop.

Protective Function

(1) Open loop protection for external instantaneous stop terminals.

(2) Over-heat protection for soft starter.

(3) Protection for too long starting time.

(4) Input open phase protection.

(5) Output open phase protection.

(6) Unbalanced three-phase protection.

(7) starting over current protection.

(8) Running overload protection.

(9) Under voltage protection for power voltage.

(10) Overvoltage protection for power voltage.

(11) Protection for fault parameter setting.

(12) Load short circuit protection.

(13) Auto restart or incorrect wiring protection.

(14)Incorrect wiring protection of external control stop terminals.

Ambient

Place to be used

Indoor location with good ventilation free from corrosive gas and conductive dust.

Altitude

Below 1000M. It have to rise the rate power when the altitude is more than 1000M.

Temperature

-30 +55 oC

Humidity

90%RH without dew condensation.

Vibration

<0.5G

Structure

Protection Class

IP20

Cooling Pattern

Natural wind cooling.
KEWO EM-GJ Soft Starter Wiring and connection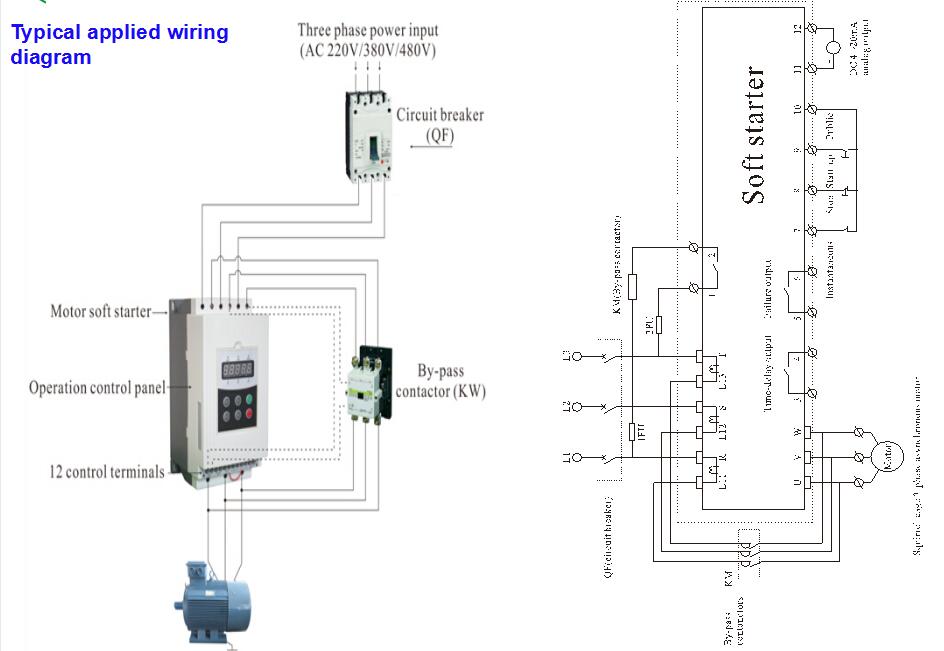 KEWO EM-GJ dimension and size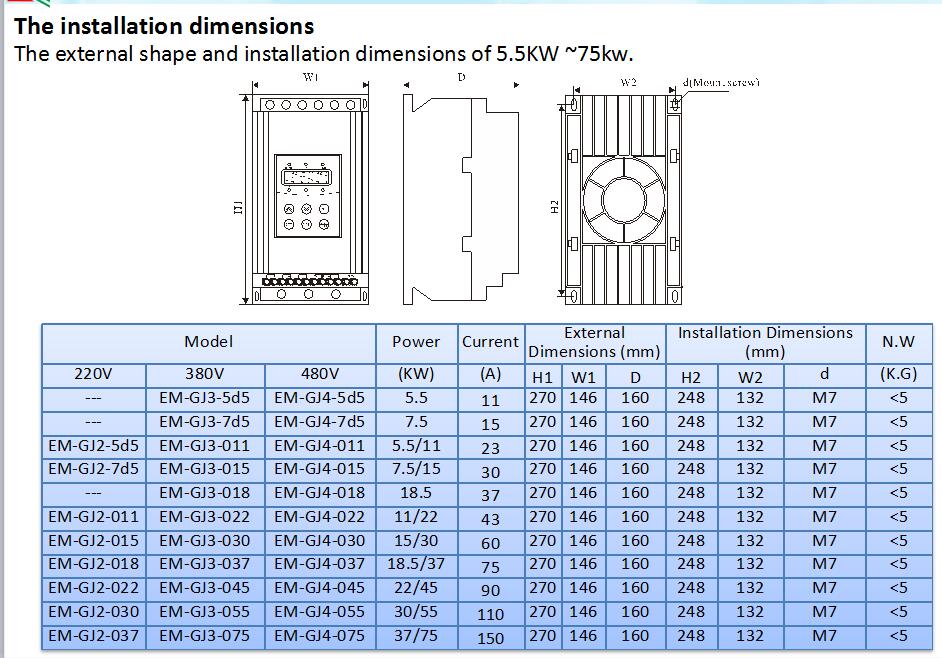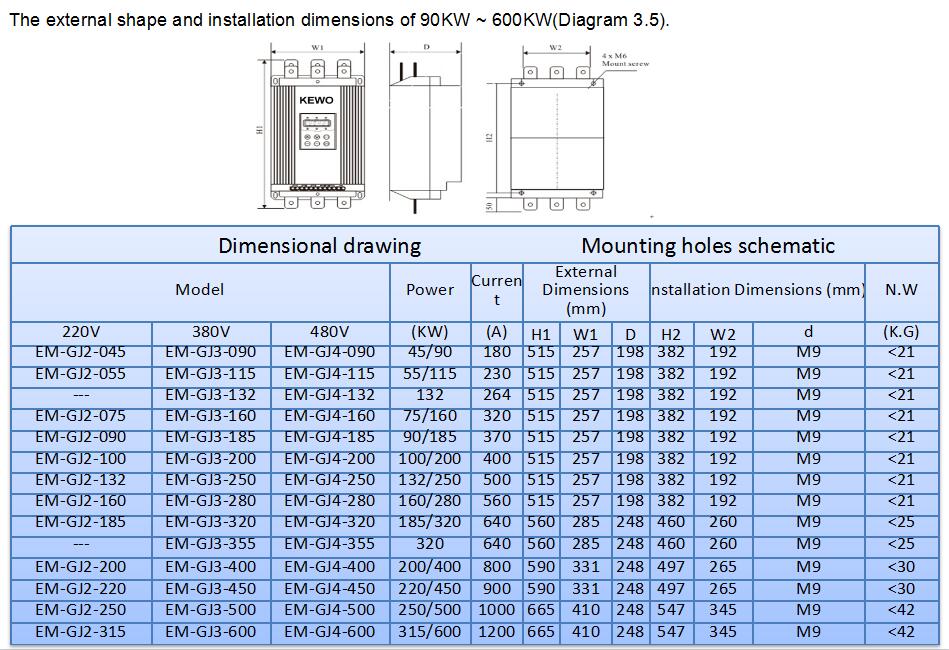 Application examples
The parameters of the different loads are different, please refer to below diagram
| | | | | | |
| --- | --- | --- | --- | --- | --- |
| The loading | Voltage ramp starting time(s) | Voltage ramp stopping time(s) | Initial voltage | Voltage ramp (current limit) | Current limit to start |
| Ball mill machine | 20 | 6 | 60% | 400% | 350% |
| Fan | 26 | 4 | 30% | 400% | 350% |
| Centrifugal | 16 | 20 | 40% | 400% | 250% |
| Piston compressor | 16 | 4 | 40% | 400% | 300% |
| hoister | 16 | 10 | 60% | 400% | 350% |
| Stirring machine | 16 | 2 | 50% | 400% | 300% |
| Breaker | 16 | 10 | 50% | 400% | 350% |
| Screw compressor | 16 | 2 | 40% | 400% | 300% |
| Rotating conveyor | 20 | 10 | 40% | 400% | 200% |
| Light load | 16 | 2 | 30% | 400% | 300% |
| Convey belt | 20 | 10 | 40% | 400% | 250% |
| Heat pump | 16 | 20 | 40% | 400% | 300% |